What makes someone a conservation hero? Conservation heroes can be anyone who is motivated to do something to protect nature. Galapagos has seen many heroes – people who have worked tirelessly in different ways to protect the fragile and unique wildlife and ecosystems. Their work is often challenging, but it can also be very rewarding. Galapagos has become a better place thanks to the efforts of people like these. Join us in celebrating them and their important work to save Galapagos.
A Galapagos native, has become a true hero in Galapagos. His trajectory since joining Galapagos Conservancy May 2021 in protecting and conserving this archipelago is nothing short of spectacular.
Jorge served as Director of the Galapagos National Park Directorate for eight years, performing various roles. He also served as Secretary for the Eastern Tropical Pacific Marine Corridor, leading vital efforts to protect marine migratory animals.
Jorge has a Ph.D. from the University of Seville in Conservation Biology. He is well respected in the scientific community and the conservation movement. Jorge is the Director of Conservation for Galapagos Conservancy, and its sister organisation, Conservando Galapagos. He leads important conservation initiatives, and is a staunch advocate of protecting wildlife and ecosystems on Galapagos. Jorge's hard work and dedication have made him a conservation hero.
Godfrey Merlen (1944-2023)
A revered figure on Galapagos. He was a fount for information and advice to scientists and conservationists because of his encyclopedic understanding of the archipelago. He was a marine biologist who helped us understand the Galapagos ecosystem.
Godfrey, in addition to his scientific research, collaborated with non-profit organizations like WildAid or Sea Shepherd for the conservation of marine life on Galapagos as well as worldwide. He played a key role during his tenure as a consultant to the Galapagos National Park in the approval the Special Galapagos law, which was aimed at protecting the biodiversity of province and regulating human activities. He also played a key role in the creation of the Marine Reserve. Godfrey also spearheaded initiatives for the protection of Galapagos eco-systems, such as the implementation of aircraft fumigants to prevent the spreading of certain diseases.
Godfrey has been working on conservation of penguins and as a consultant for the Ecuadorian Fund for the Control of Invasive Species Galapagos.
With the help of Galapagos Conservancy he had been searching for the Galapagos Damsel, a small, beautiful fish that was once plentiful but is now extinct in Galapagos. Godfrey still held out hope that it could exist, and was working with local fisherman to find it.
Godfrey's legacy of conservation in the Galapagos will live on.
The walkers are a tough lot. They spend long hours in the sun carrying heavy loads and traversing steep and challenging trails. Novarino lives this reality every day. He can trek for up to 14 hours and make multiple trips to ensure that every detail is attended with precision. His commitment and perseverance are essential in equipping the expedition camps with all necessary equipment.
Novarino is proud of his contribution to species conservation, especially when it comes iconic Galapagos tortoises. His often overlooked contribution is vital to the conservation and resilience of Galapagos' unique biodiversity.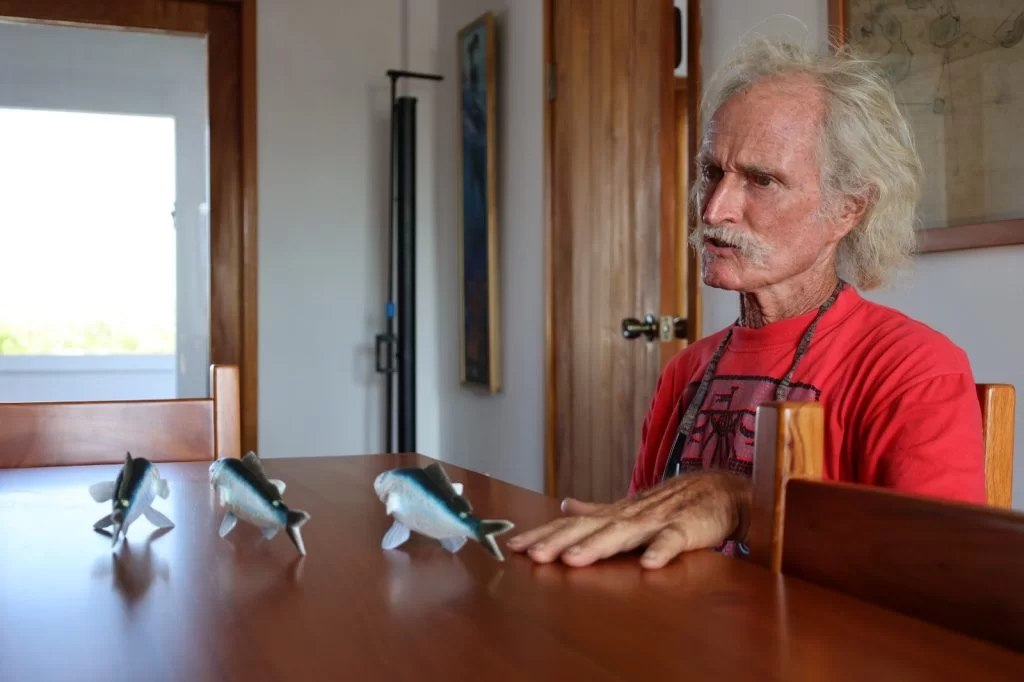 Novarino Castillo
An Unsung Hero Of Conservation In Galapagos
We need to conduct expeditions in remote areas of the Galapagos Archipelago to monitor and discover the wildlife. These expeditions can be difficult and demanding, and they rely on the help of those who often go unnoticed. A man is at the heart of many expeditions. Novarino Castillo is the name of this man, who is a guide for Galapagos Conservancy as well as other organizations on all conservation expeditions to Galapagos.
Novarino, his team
They are responsible for delivering essential supplies to park rangers and scientists during their extended stay on the islands. They carry food, water and medicine as well as scientific equipment, generators and cookware. It may seem simple, but carrying these supplies up and down mountains and across rocky terrain is not an easy task.
Novarino's team and he work hard every day, but it is essential to our conservation work. The team starts their day at dawn, rising before sunrise to prepare and eat breakfast before meeting the expedition groups. They will then be on a mission to equip scientists and park rangers to do their jobs in the most remote parts of the islands.
Recognition
We recognize and thank the porters of Galapagos Conservancy and Novarino for their tireless efforts, which are essential to the success of these expeditions. They ensure that park rangers and scientists can do their work in the best possible conditions. It would be impossible for comprehensive research to take place and the integrity of ecosystems to be maintained without their logistical support.